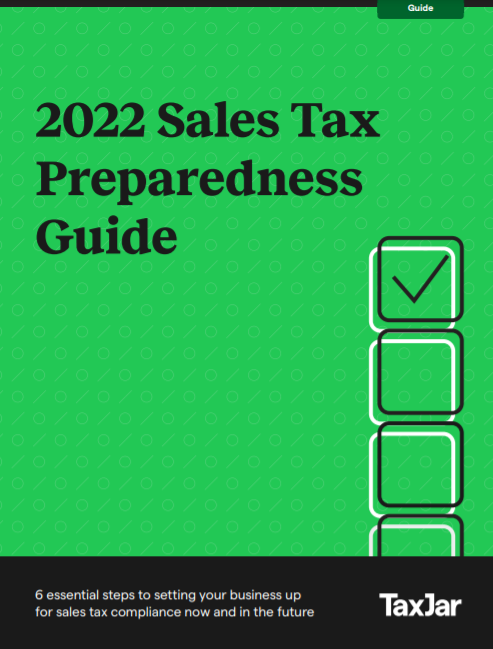 FREE GUIDE
2022 Sales Tax Preparedness Guide
6 essential steps to setting your business up for sales tax compliance now and in the future 
With over 46 different sales tax nexus laws, 11,000 taxing jurisdictions, and the constantly changing regulations, 2022 will be a tough year for taxes.
To make your life easier, our friends at TaxJar created a 6 step guide to help you break everything down into small and organized increments.
The guide will also feature new state sales tax laws, e-commerce trends to be aware of, and how to implement automation tools so you can spend time on more important things.
If this sounds like something that would be beneficial, then you can download the guide here.
In the guide you'll also learn:
The new 2022 sales tax changes by state and local levels 
The 4 states that had massive sales tax changes 
How to Determine where you have sales tax nexus 
Future trends, growth, and internal expectations within ecommerce 
Two key trends in sales tax compliance for businesses regarding nexus transaction thresholds 
How to solve remote work complicating sales tax compliance for companies 
Physical sales tax compliance for trade shows, affiliates, or inventory 
DOWNLOAD YOUR FREE WHITE PAPER

By downloading this asset, you will be subscribed to the Resourceful Finance Pro email newsletter that delivers practical advice and resources to help you navigate everyday finance challenges. You may also be contacted by this whitepaper provider.

You can unsubscribe from emails at any time.
Privacy Policy