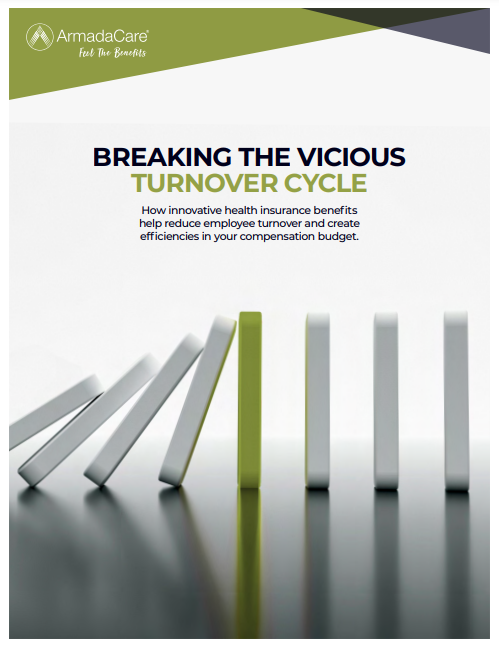 FREE REPORT
Breaking the Vicious Turnover Cycle
Reduce the Cost of Talent Turnover
Inflation, supply chain issues and other operating costs are creating financial pressures for your company. Then there's the talent expense…recruiting, retaining and compensating. How can you mitigate those costs?
One important aspect is looking at the hidden costs of turnover and the importance of preventing a vicious turnover cycle. Considering that compensation budgets can only stretch so far, you need tax-efficient options to reach your talent retention goals.*
This report explores:
Current economic and talent trends
The cost of spiraling turnover
A holistic view of compensation
Maximizing the compensation budget
The role of specialized health insurance benefits
*This is not local, state or federal tax advice as each person and each company is unique. It is recommended that you seek the independent counsel of a professional tax adviser.
ArmadaCare's supplemental health insurance policies are underwritten by Sirius America Insurance Company and Transamerica Life Insurance Company. Insurance plans and coverages vary by state. Please contact us to confirm state availability.
DOWNLOAD YOUR FREE REPORT

By downloading this asset, you will be subscribed to the Resourceful Finance Pro email newsletter that delivers practical advice and resources to help you navigate everyday finance challenges. You may also be contacted by this report provider.

You can unsubscribe from emails at any time.
Privacy Policy