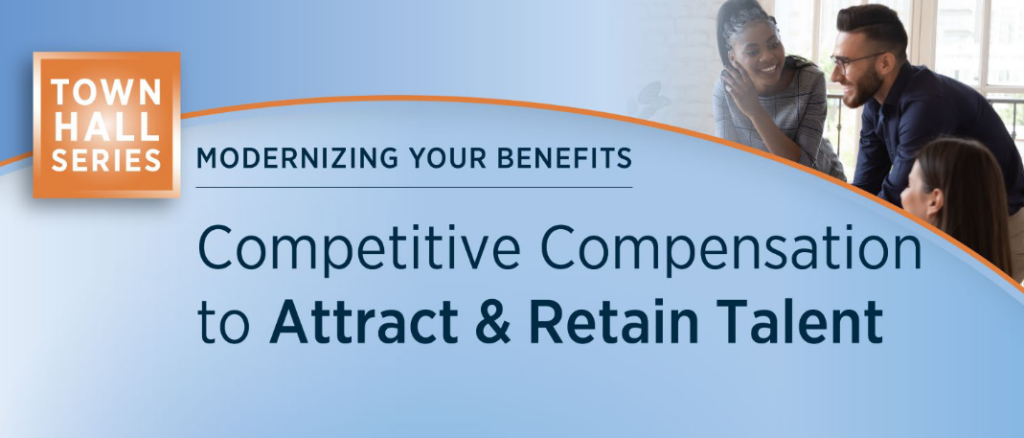 COMPLIMENTARY ON-DEMAND WEBINAR
Modernizing Your Benefits: Competitive Compensation to Attract & Retain Talent
What is your Compensation Strategy to Attract & Retain Talent?
It can be difficult to have a thriving workforce in today's environment when employment attrition rates are growing, amidst the ongoing battle with inflation and climbing interest rates. This makes it crucial for employers to be strategic with their organizational decisions and adopt a total rewards approach in order to alleviate stress on available compensation dollars. Compensation is not a one-size-fits-all solution. While salary is important, all components of your benefits package should be taken into account to not only to meet your employees' needs, but to meet the organization's strategy and budget as well.
Our subject matter experts will drive conversations around strategies and tools that can best support you in designing a competitive, sustainable, and equitable compensation and total rewards offering for attracting and retaining talent.
WATCH YOUR COMPLIMENTARY ON-DEMAND WEBINAR

By downloading this asset, you will be subscribed to the Resourceful Finance Pro email newsletter that delivers practical advice and resources to help you navigate everyday finance challenges. You may also be contacted by this whitepaper provider.

You can unsubscribe from emails at any time.
Privacy Policy