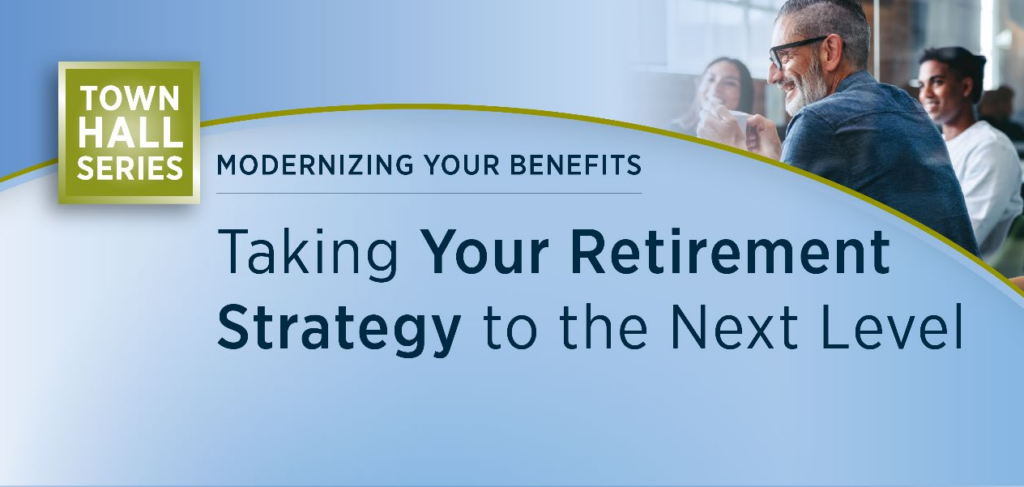 COMPLIMENTARY ON-DEMAND WEBINAR
Town Hall: Taking Your Retirement Strategy to the Next Level
In today's ever-evolving environment, 34% of employees plan to push back their retirement dates*. No matter the income level or current life stage, employees are seeking ways to save and make the most of their money and retirement plan. Discover what actions other organizations are taking in response to SECURE ACT 2.0., while creating meaningful retirement benefits and taking into account the unique needs of your workforce. Watch Gallagher's Webinar to learn more about modernizing your retirement benefits and building financial confidence for your workforce.
In this session, you will:
Gain insights into the financial behavior of your employees and the need for personalization
Understand the top barriers employees face when saving money for retirement
Recognize the disconnect between employee's perception of financial wellbeing and reality
Learn how to improve the perception that salaries are not the only indicator of financial health
Gain actionable solutions to connect how personalized retirement benefits, healthcare benefits and financial knowledge all work together to support your employees' financial wellbeing
Discover how can you help your employees feel confident in their total financial wellbeing
Understand what your workforce looks like from a demographic standpoint and how to implement financial programs to meet the needs of each demographic
Learn 5 employer actions to take now
*Franklin Templeton's Voice of the American Worker Survey: The Future of Workplace Financial Well-Being: 2022 Employer & Employee Perspectives, SoFi at Work
For Institutional Use Only. Not for Public Distribution. This material was created to provide information on the subjects covered, but should not be regarded as a complete analysis of these subjects. The information provided cannot take into account all the various factors that may affect your particular situation. The services of an appropriate professional should be sought regarding before acting upon any information or recommendation contained herein to discuss the suitability of the information/recommendation for your specific situation.
DOWNLOAD YOUR COMPLIMENTARY ON-DEMAND WEBINAR

By downloading this asset, you will be subscribed to the Resourceful Finance Pro email newsletter that delivers practical advice and resources to help you navigate everyday finance challenges. You may also be contacted by this webinar provider.

You can unsubscribe from emails at any time.
Privacy Policy