Essential Insights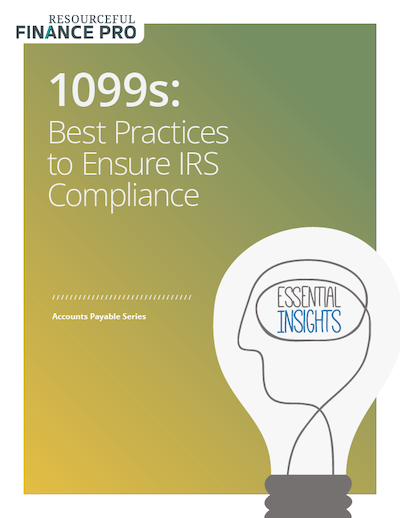 1099s: Best Practices to Ensure IRS Compliance
Part of the Accounts Payable Series
Why does the Form 1099 give even the most experienced finance pros a headache? Simple - filing 1099s can be complicated and even one small mistake can be costly.
Unfortunately, of all the strict IRS requirements Accounts Payable strives to meet, accurate 1099s hit the top of the list.
How can you keep up and minimize errors, avoid penalties and ensure compliance?
Read 1099s: Best Practices to Ensure IRS Compliance
What's Inside?
1099s: Best Practices to Ensure IRS Compliance
1099 Best Practices in 30 minutes
How to determine who and what is "1099-able"
Find and fix errors before you cut a check or file a return
What to document? Ensure your records are up-to-snuff
"I got a B-Notice": Guidelines for what you must do now
Cut time off of year-end with best practices all year round
In This Concise Report
Backup withholding: When and how you must do it
The most common 1099 errors — and how to avoid them
2-step process to get accurate and timely TINs
P-card payments: Handling these common and tricky transactions
Non-US vendors: How 1099s apply to different payees
Discover
5 key federal tax deadlines you'll need to meet
Keys to protect yourself from excess IRS penalties
1099s relatives: Related forms you may also have to file
The most common transactions you don't have to report
Complicated form 1099 questions answered
What Our Customers Say
"I recommend it highly for busy CFOs and Controllers"
Jane Coelho, CFO,
Documation
"Easy to read, relevant and pertinent information"
Gilber Kouame, CFO,
Prism Health
"It gets right to the heart of the issue and subject matter"
Mark Wilson, CFO,
Cherryland Electric Cooperative
45-Day Money Back Guarantee
Resourceful Finance Pro's "1099s: Best Practices to Ensure IRS Compliance" Essential Insights comes with an unconditional, 100% money back guarantee.
If you decide "1099s: Best Practices to Ensure IRS Compliance" doesn't deliver value or simply isn't your cup of tea, just email us at support@resourcefulfinancepro.com within 45 days, and we'll process your complete, no-hassle refund in 1 business day or less.
But I'm confident you won't need to.
To your success,
Curt Brown