Essential Insights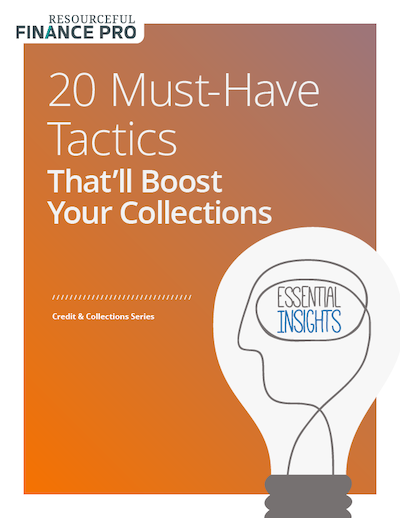 20 Must-Have Tactics That'll Boost Your Collections
Part of the Credit & Collections Series
You know all too well the longer an account goes past-due, the less a chance you'll ever collect your cash.
Luckily, there are ways you can loosen their grip.
This report gives you 20 creative, innovative ways to super-charge your collections process so you get paid faster, before collecting becomes an issue.
What's Inside?
20 Must-Have Tactics That'll Boost Your Collections
Bypass Customers' Excuses and Keep Payments Coming In
Loosen the grip of customers who hang on tightly to their cash
5 common excuses customers give - and how to counter-attack them
Approaches to turn up the heat on stagnating accounts
3 tactics to maximize call time and increase profitability
7 instances when you need to seek out a third-party agency immediately
Super-Charge Your Collections Process
Battle plan to help collectors prepare before getting on the phone
20 techniques to start customer interactions right – and get paid faster
When good customers get off track: Formalized repayment agreements that work
3 pointers to help Sales maximize on-site visits
No. 1 priority when attempting to collect on delinquent accounts
Get Paid Faster
Increase the chances you'll get paid faster - before collecting becomes an issue
Trump card that gets customers to compromise and promptly send in payment
Get the biggest bang for your buck even after you've handed over accounts to an agency
7 email best practices that get the most out of customers
Keys to come away from every interaction with a payment commitment
What Our Customers Say
"I recommend it highly for busy CFOs and Controllers"
Jane Coelho, CFO,
Documation
"Easy to read, relevant and pertinent information"
Gilber Kouame, CFO,
Prism Health
"It gets right to the heart of the issue and subject matter"
Mark Wilson, CFO,
Cherryland Electric Cooperative
45-Day Money Back Guarantee
Resourceful Finance Pro's "20 Must-Have Tactics That'll Boost Your Collections" Essential Insights comes with an unconditional, 100% money back guarantee.
If you decide "20 Must-Have Tactics That'll Boost Your Collections" doesn't deliver value or simply isn't your cup of tea, just email us at support@resourcefulfinancepro.com within 45 days, and we'll process your complete, no-hassle refund in 1 business day or less.
But I'm confident you won't need to.
To your success,
Curt Brown