Essential Insights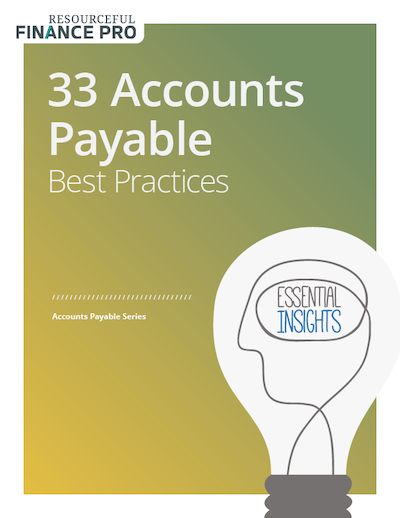 33 Accounts Payable Best Practices
Part of the Accounts Payable Series
A/P traditionally seen as a cost center, but there's potential for significant savings - while keeping compliance high - by employing some key best practices.
Chances are your procedures are already solid. That's why this report delivers 33 road-tested ideas, techniques and best practices to help you take it even further.
It will help you save more time, more money and avoid costly errors - all without having to bust your budget or completely rework your existing processes.
What's Inside?
33 Accounts Payable Best Practices
Accounts Payable Best Practices in 30 Minutes
6 must-have tips for efficient and accurate 1099 reporting
7 key IRS publications and forms to find the info you need faster
Employee or independent contractor?: 3 keys to make the right call
3 major 1099 changes coming that will impact accounts payable
Streamline Activities You Perform the Most
2 keys for using payment cards effectively
4 can't miss ideas to find and report unclaimed property with ease
3 sales and use tax best practices to streamline your process
2 proven ways to take the pain out of T&E processing
Also Discover
3 tested, easy to implement ways to speed up approvals
4 keys to tighter controls and fraud prevention
How top A/P departments are making the most out of technology
What Our Customers Say
"I recommend it highly for busy CFOs and Controllers"
Jane Coelho, CFO,
Documation
"Easy to read, relevant and pertinent information"
Gilber Kouame, CFO,
Prism Health
"It gets right to the heart of the issue and subject matter"
Mark Wilson, CFO,
Cherryland Electric Cooperative
45-Day Money Back Guarantee
Resourceful Finance Pro's "33 Accounts Payable Best Practices" Essential Insights comes with an unconditional, 100% money back guarantee.
If you decide "33 Accounts Payable Best Practices" doesn't deliver value or simply isn't your cup of tea, just email us at support@resourcefulfinancepro.com within 45 days, and we'll process your complete, no-hassle refund in 1 business day or less.
But I'm confident you won't need to.
To your success,
Curt Brown