Practical Tools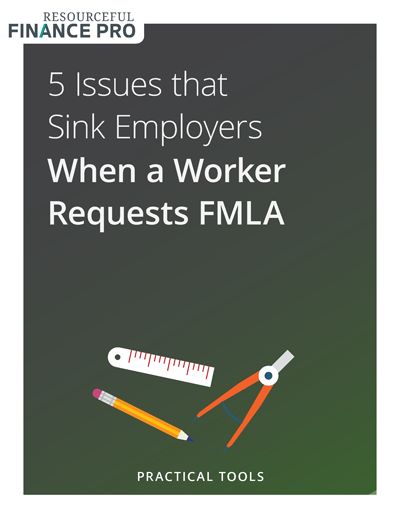 5 Issues that Sink Employers When a Worker Requests FMLA
FMLA certifications can be a source of major headaches for your benefits managers – as well as other who deal with leave requests.
And, if your paperwork isn't buttoned up you could have some explaining to do.
Here are 5 problematic FMLA certification issues and solutions that can keep you out of costly legal trouble.
In this Practical Tool, you'll discover:
How to resolve incomplete, insufficient and unclear requests, and how much time to allow for revisions
3 people who can contact a healthcare provider regarding an employee – and the one person who can't
Who pays when a second or third opinion is required
Get This Practical Tools
& Much More …
With a HRMorning Insider membership you'll get immediate access to the Practical Tools you're looking at right now, plus all this in your account on day one:
Quality, reliable information you can trust – professionally curated, distilled and delivered to you all in one place.
BECOME A
NOW
Get this Practical Tools plus 400+ resources - FREE for 21 days
What Our Customers Say
"I recommend it highly for busy CFOs and Controllers"
Jane Coelho, CFO,
Documation
"Easy to read, relevant and pertinent information"
Gilber Kouame, CFO,
Prism Health
"It gets right to the heart of the issue and subject matter"
Mark Wilson, CFO,
Cherryland Electric Cooperative