Practical Tools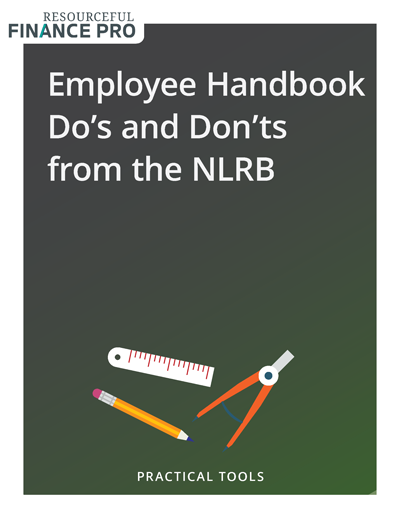 Employee Handbook Do's and Don'ts from the NLRB
Often, subtle revisions are all that's needed to change an unlawful policy to a legal one.
The National Labor Relations Board (NLRB) offers guidance on how to comply with the National Labor Relations Act, and with Section 7 in particular.
Get the precise language you should use in your handbooks.
In this Practical Tool, you'll discover:
3 ways to legally restrict dissemination of confidential information
10 rules to address conduct toward supervisors and the company
5 rules to establish how employees should treat each other
Get This Practical Tools
& Much More …
With a HRMorning Insider membership you'll get immediate access to the Practical Tools you're looking at right now, plus all this in your account on day one:
Quality, reliable information you can trust – professionally curated, distilled and delivered to you all in one place.
BECOME A
NOW
Get this Practical Tools plus 400+ resources - FREE for 21 days
What Our Customers Say
"I recommend it highly for busy CFOs and Controllers"
Jane Coelho, CFO,
Documation
"Easy to read, relevant and pertinent information"
Gilber Kouame, CFO,
Prism Health
"It gets right to the heart of the issue and subject matter"
Mark Wilson, CFO,
Cherryland Electric Cooperative