Essential Insights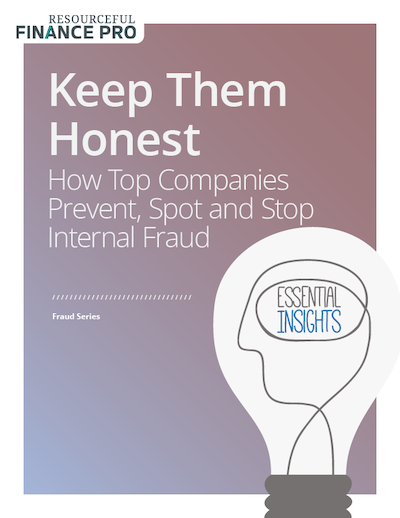 Keep Them Honest: How Top Companies Prevent, Spot and Stop Fraud
Part of the Fraud Series
Uttering the "f-word" – fraud – used to be considered foul language in most businesses.
Now, almost every organization has an unfortunate tale of employees taking liberties with company cash.
Or worse, they just haven't uncovered it yet.
Fraud is happening – with increasing regularity.
Fortunately there are proven ways to fight back. Companies that fend off fraud – or at least minimize their losses from it – know what to look for and employ the best strategies to catch it. How do they do it?
What's Inside?
Keep Them Honest: How Top Companies Prevent, Spot and Stop Fraud
Free and inexpensive ways to motivate your entire staff:
Get buy-in for fraud prevention efforts with these eye-opening fraud statistics
12 strategies you can use today to protect your cash
3 factors that leave you exposed to fraud and how to wipe them out to minimize your risk
The profile of a "typical" fraudster: Research-based traits of workplace thieves
Where 87% of companies drop the ball with their anti-fraud program
The #1 fraud-fighting control hands-down – does your company you employ it?
Proven Ways to Fight These Specific Types of Fraud
5 ways to isolate and eliminate "ghost employees" and payroll fraud
One-two punch to monitor and prevent e-payments fraud
The top 5 payment controls your peers are adding right now
6 warning signs to detect billing fraud
4 red flags of workers' comp fraud
The most common way employees hide inventory theft – and 3 ways to defend against it
Tested Internal Controls and Backstops
5 successful tactics to tighten internal controls
How to increase positive employee behavior by 47%
Open-door policy: Why frontline supervisors are your best defense against fraud
How one company uses e-mail alerts to catch fraud before it takes an expensive bite out of its bottom line
42% of defrauded companies point to this as the cause
BONUS: Key online resources to help you fight fraud
What Our Customers Say
"I recommend it highly for busy CFOs and Controllers"
Jane Coelho, CFO,
Documation
"Easy to read, relevant and pertinent information"
Gilber Kouame, CFO,
Prism Health
"It gets right to the heart of the issue and subject matter"
Mark Wilson, CFO,
Cherryland Electric Cooperative
45-Day Money Back Guarantee
Resourceful Finance Pro's "Keep Them Honest: How Top Companies Prevent, Spot and Stop Fraud" Essential Insights comes with an unconditional, 100% money back guarantee.
If you decide "Keep Them Honest: How Top Companies Prevent, Spot and Stop Fraud" doesn't deliver value or simply isn't your cup of tea, just email us at support@resourcefulfinancepro.com within 45 days, and we'll process your complete, no-hassle refund in 1 business day or less.
But I'm confident you won't need to.
To your success,
Curt Brown