Essential Insights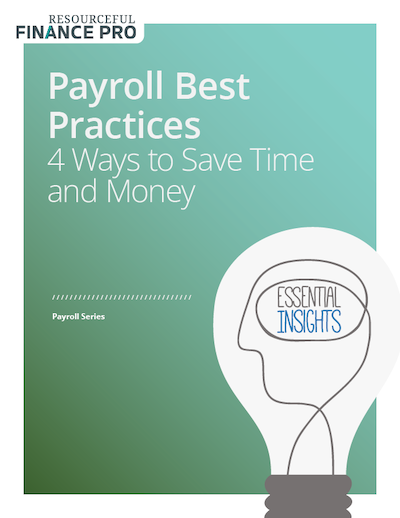 Payroll Best Practices: 4 Ways to Save Time and Money
There's lot more money coming out of Payroll than the paychecks they issue.
Everything from inefficient manual processes to ghost employees can drain your cash every day.
Regardless of the size of your company, taking the time to benchmark your current processes against Payroll best practices can help you uncover small opportunities for improvement that lead to big payoffs.
Get this report right now and learn 4 effective strategies to boost Payroll's effectiveness that cut costs and boost your company's bottom line.
What's Inside?
Payroll Best Practices: 4 Ways to Save Time and Money
Best Practices That Will Save Them Time and Money
State and federal compliance: What you need to know
How to make paperless paystubs work for your organization
Proven ways to prevent fraudulent employees on the payroll
Using time & attendance systems to eliminate costly errors
10 audits every Payroll Department should run regularly
Streamline Payroll and Control Costs
Eliminate stolen checks and cashing fees using paycards
Payroll innovations that pay for themselves
Get buy-in for direct deposit: Internal marketing strategies that work
Help your employer get to a healthier balance sheet
Basic records employers must maintain for every employee
Money-Saving Strategies You Can Use Today
Lower your tax rate with voluntary UI contributions
Eliminate paper paychecks: How you and employees will save
Cash-in on employees' desire to "go green"
Save up to $3.15 per payment using direct deposit
What's the true cost of overpaying employees?
What Our Customers Say
"I recommend it highly for busy CFOs and Controllers"
Jane Coelho, CFO,
Documation
"Easy to read, relevant and pertinent information"
Gilber Kouame, CFO,
Prism Health
"It gets right to the heart of the issue and subject matter"
Mark Wilson, CFO,
Cherryland Electric Cooperative
45-Day Money Back Guarantee
Resourceful Finance Pro's "Payroll Best Practices: 4 Ways to Save Time and Money" Essential Insights comes with an unconditional, 100% money back guarantee.
If you decide "Payroll Best Practices: 4 Ways to Save Time and Money" doesn't deliver value or simply isn't your cup of tea, just email us at support@resourcefulfinancepro.com within 45 days, and we'll process your complete, no-hassle refund in 1 business day or less.
But I'm confident you won't need to.
To your success,
Curt Brown