Essential Insights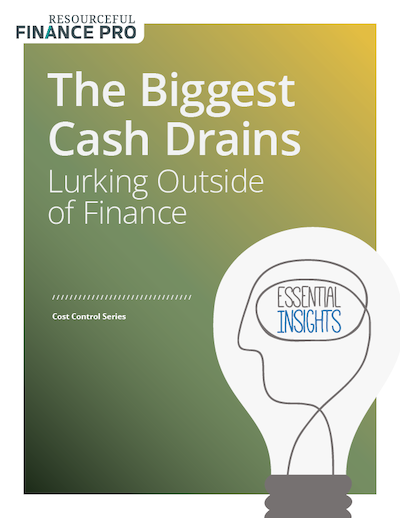 The Biggest Cash Drains Lurking Outside of Finance
Part of the Cost Control Series
In a recent survey finance execs agree, the 6 biggest sources of unnecessary spending across their organizations were:
Sales and Marketing
Customer Service
Administrative Services
Facilities Management
Supply Chain
Inventory
Identifying these exposures is a start, but far from enough to stop wasteful spending and cash from quietly leaking out of your organization's bank account.
You need to identify where money is being lost, why and how much. Only then can finance implement policies and procedures to tune, tighten and stop inefficiencies and change spending habits.
How to do it?
The Solution: The Biggest Cash Drains Lurking Outside of Finance
What's Inside?
The Biggest Cash Drains Lurking Outside of Finance
Best and latest ways to spot and prevent cash drains
Guide to finding your greatest cash-compromising vulnerabilities
Top 6 areas cash drains may be hiding
Common incentives that quietly hurt the bottom line
Wasteful supply-chain spending that slips past most companies
Moving products fast without facing a loss
Keys to eliminating excess spending in other departments
5 major areas where cash leaking can be tightened
Incentive programs that reinforce commitment to saving
Proactively managing suppliers to avoid dealing with damage control
3 areas of inventory where the most cash slips through
Common ways employees are hiding theft
Effective ways to crack down on wasteful spending
3 questions that will help you bulletproof your pricing decisions
Calculating the cost of saying "yes" to new products and services
3 opportunities to start saving on shipping
Real-life examples of how other companies are saving successfully
What Our Customers Say
"I recommend it highly for busy CFOs and Controllers"
Jane Coelho, CFO,
Documation
"Easy to read, relevant and pertinent information"
Gilber Kouame, CFO,
Prism Health
"It gets right to the heart of the issue and subject matter"
Mark Wilson, CFO,
Cherryland Electric Cooperative
45-Day Money Back Guarantee
Resourceful Finance Pro's "The Biggest Cash Drains Lurking Outside of Finance" Essential Insights comes with an unconditional, 100% money back guarantee.
If you decide "The Biggest Cash Drains Lurking Outside of Finance" doesn't deliver value or simply isn't your cup of tea, just email us at support@resourcefulfinancepro.com within 45 days, and we'll process your complete, no-hassle refund in 1 business day or less.
But I'm confident you won't need to.
To your success,
Curt Brown