Essential Insights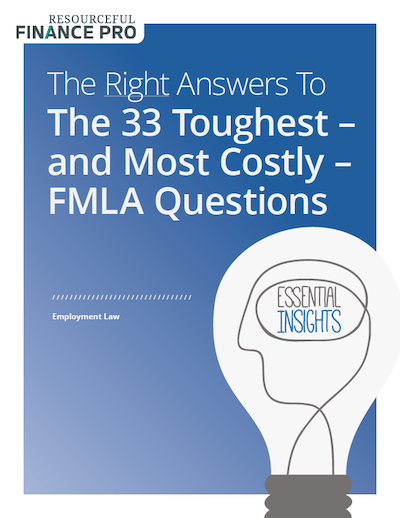 The Right Answers to the 33 Toughest - And Most Costly - FMLA Questions
Part of the Employment Law Series
FMLA continues to confound, frustrate and stump even the most experienced professionals.
Add to that employees who try to abuse FMLA and you're left dealing with very serious and time-consuming issues in the middle of your already jam-packed schedule.
Here's help. This report gives you answers to the 33 toughest FMLA questions you'll ever face straight from lawyers at a labor & employment law conference.
In addition, it clears up the gray areas of the law and offers advice on how to handle tricky situations so you're prepared for any incident or request that comes your way.
What's Inside?
The Right Answers to the 33 Toughest - And Most Costly - FMLA Questions
Answers to the 33 Toughest FMLA Questions
Health conditions that do, and don't, qualify for FMLA
Medical certification forms: 5 things you can always insist on getting
Best practices for verifying FMLA is needed – without going too far
Handling intermittent leave so it's not a pain for you or employees
New poster and paperwork the DOL's enforcing now
What you can't ask employees to do with their FMLA
Stop Employees from Abusing the System
Special considerations you need to take with exempt employees
Surprising information that doesn't need to be included in requests
Moonlighting while on FMLA: Punishable or not?
GINA disclaimer you should include in every medical certification form
Ensuring compliance when both FMLA and ADA come into play
How long employees have to bring in – or fix – a doctor's note
Clear, Concise, Accurate Ways to Deal with Tricky Situations
Is it ever a good idea to hire a private investigator?
Conditions when same-sex partners are eligible for caregiver FMLA
How not to get tangled in the Pregnancy Discrimination Act
Parameters for when you are, and aren't responsible for temps' FMLA
The 8 specific reasons that qualify for military FMLA leave
What Our Customers Say
"I recommend it highly for busy CFOs and Controllers"
Jane Coelho, CFO,
Documation
"Easy to read, relevant and pertinent information"
Gilber Kouame, CFO,
Prism Health
"It gets right to the heart of the issue and subject matter"
Mark Wilson, CFO,
Cherryland Electric Cooperative
45-Day Money Back Guarantee
Resourceful Finance Pro's "The Right Answers to the 33 Toughest - And Most Costly - FMLA Questions" Essential Insights comes with an unconditional, 100% money back guarantee.
If you decide "The Right Answers to the 33 Toughest - And Most Costly - FMLA Questions" doesn't deliver value or simply isn't your cup of tea, just email us at support@resourcefulfinancepro.com within 45 days, and we'll process your complete, no-hassle refund in 1 business day or less.
But I'm confident you won't need to.
To your success,
Curt Brown