Essential Insights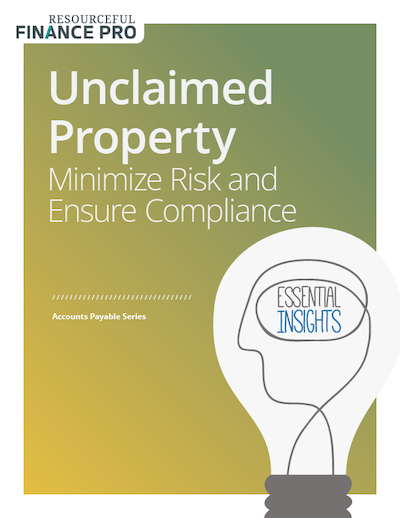 Unclaimed Property: Minimize Risk and Ensure Compliance
Part of the Accounts Payable Series
More than two-thirds of companies are not in full compliance with states' unclaimed property laws.
It's not just companies that don't file reports or turn over escheatable property; even the most experienced finance pros can make mistakes. And in 31 states, you have to file even if there's nothing to report.
So how can you minimize risk, ensure compliance and avoid a costly audit?
The Solution: Unclaimed Property: Minimize Risk and Ensure Compliance
What's Inside?
Improve unclaimed property procedures in 30 minutes:
T&E Best Practices in 30 Minutes
How you can ensure compliance in all applicable states
Documentation: What needs to be recorded and kept
What you can do to avoid fines and penalties
Due diligence: How to do it
2 key unclaimed property laws that every company is required to follow
Answers to the 4 most common escheatment responsibility questions
What disbursement activities can result in unclaimed property?
When an owner can't be found, where should the property be reported?
What's the cutoff to report unclaimed property in each state?
What are companies' reporting obligations?
 Increase Compliance:
The most problematic areas of reporting
Meet the latest requirements
What are your reporting rules and responsibilities?
How to protect your company when using a third-party vendor
What Our Customers Say
"I recommend it highly for busy CFOs and Controllers"
Jane Coelho, CFO,
Documation
"Easy to read, relevant and pertinent information"
Gilber Kouame, CFO,
Prism Health
"It gets right to the heart of the issue and subject matter"
Mark Wilson, CFO,
Cherryland Electric Cooperative
45-Day Money Back Guarantee
Resourceful Finance Pro's "Unclaimed Property: Minimize Risk and Ensure Compliance" Essential Insights comes with an unconditional, 100% money back guarantee.
If you decide "Unclaimed Property: Minimize Risk and Ensure Compliance" doesn't deliver value or simply isn't your cup of tea, just email us at support@resourcefulfinancepro.com within 45 days, and we'll process your complete, no-hassle refund in 1 business day or less.
But I'm confident you won't need to.
To your success,
Curt Brown