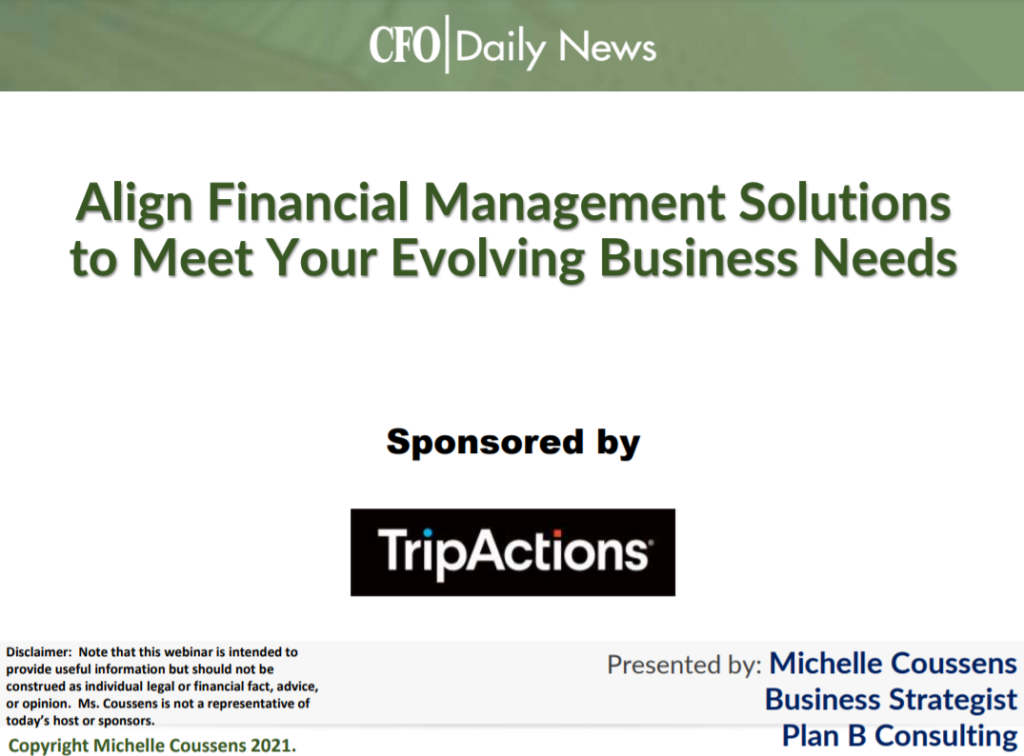 FREE ON-DEMAND WEBINAR
Align Financial Management Solutions to Meet Your Evolving Business Needs
Having the right financial management solutions for your organization can make the difference between merely staying in business and excelling.
Fierce competition means organizations must continuously pursue and improve upon efficiency and productivity or be lapped by their competitors.
And yet, many financial reporting systems are the antithesis of efficiency.
Watch on-demand to learn how to increase the performance of your financial reporting system to better meet your evolving business needs and position you to excel. Discover how to minimize manual processes and reduce waste and errors, while providing your business decision-makers with real-time access to critical information.
By the end of this webinar you'll know:  
How actionable reporting and analytics from your financial system help your business thrive and grow  
Ways to automate and streamline your financial decision-making and connect them to operational logistics – and where to start
The types of workflows and tasks that should be automated –  and some that shouldn't
How financial data can be better collected, stored, and analyzed to prepare for the future
How to better balance resources against deadlines, quality requirements, and budgets
Proven ideas to make your budgeting and forecasting more effective – even on your existing system
Considerations for buying financial management tech and features to look for
Duration: 60 minutes
Your Speaker: 

Michelle Coussens, Business Strategist
Michelle Coussens is a frequently sought out speaker for numerous types of organizations on a wide range of topics related to the workplace, including but not limited to, talent management, business safety and continuity, and financial acuity. In 2020, she created and delivered more than 40 well-regarded presentations for numerous organizations around the world.
She is a resourceful, resilient, and relentless business professional with demonstrated success in building new programs, driving short-term efficiencies, and improving long-term effectiveness all through innovation, rigor, and courageous leadership. She has direct experience with a variety of industries, as well as in consulting, education, and not-for-profit organizations.
WATCH THIS FREE ON-DEMAND WEBINAR

By downloading this asset, you will be subscribed to the Resourceful Finance Pro email newsletter that delivers practical advice and resources to help you navigate everyday finance challenges. You may also be contacted by this webinar provider.

You can unsubscribe from emails at any time.
Privacy Policy