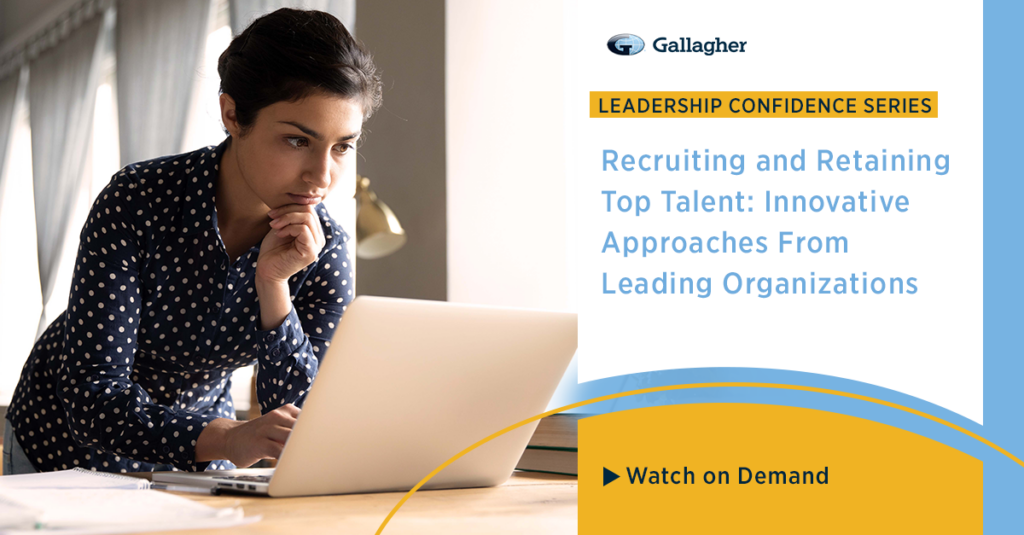 FREE ON-DEMAND WEBINAR
Recruiting and Retaining Top Talent: Innovative approaches from leading organizations
Attracting and retaining executives has never been a simple task.
Today, the changing social landscape and volatile economic conditions have made it even more challenging.
Organizations seeking transformational leaders must embrace new strategies that incorporate speed and agility into their executive recruitment process.
Listen to a panel of top HR professionals from Walmart, Google Cloud, and Canadian Western Bank share creative strategies they've implemented to overcome many of today's top recruiting and retention challenges while enhancing the candidate experience.
They'll discuss:
What business leaders need to think about differently to recruit and retain executive talent in the current labor market 
How to all but guarantee cultural fit – BEFORE an offer is made
Why transparency is your best weapon against hiring mistakes
How to think of onboarding beyond the first 30 or 90 days
HR's new role as curator of the candidate experience
Why it's critical to have an "always on" strategy
Ways to attract passive candidates
Examples of how these leading organizations have improved talent attraction and retention
How to shorten the recruiting cycle – and land talent faster
Important considerations when choosing the interviewing team – and what it says about your company and your culture
What does inclusion really mean – and how can you bring it out beyond diversity?
What "a purposeful approach to hiring" really means – and why it's critical
How to use personas and success profiles with your interviewing team to dramatically increase hiring success
Navigating the remote, hybrid, in-person conversation
Ways you can help ensure new hires will be successful 
The use of pre-hire assessment tools as post-hire development tools
The overlap between your recruitment strategy and your retention strategy
Panelists:
John Lacy, Vice President, People at Walmart Health & Wellness
Brigette McInnis Day, former CHRO at Google Cloud
Kelly Blackett, Chief People and Culture Officer at Canadian Western Bank
David Alexander, Managing Director, Executive Search at Gallagher
DOWNLOAD YOUR FREE ON-DEMAND WEBINAR

By downloading this asset, you will be subscribed to the Resourceful Finance Pro email newsletter that delivers practical advice and resources to help you navigate everyday finance challenges. You may also be contacted by this whitepaper provider.

You can unsubscribe from emails at any time.
Privacy Policy